News
CHURCH BEAUTIFUL
Mosaic work commissioned by Halifax church to be unveiled at Lunenburg exhibition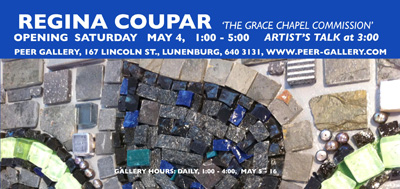 If it was good enough for the ancient and medieval Italians, well it's good enough for us. We at Grace Chapel recently commissioned a series of original mosaic art works that will be unveiled at Peer Gallery in Lunenburg on May 4, 2013.
"Here at Grace, we're thrilled to find our own place in the grand tradition of the arts being used to enhance worship," says Mark Harris, one of the pastors. "We believe that God is the source of all beauty in our resplendent world; it only seems right to reflect something of that beauty back in our place of worship."
The tradition of mosaic art – using small pieces of coloured stone, glass, or other material to form an image – is 4,000 years old, and was used to decorate many of the first churches in the early centuries AD. Lunenburg artist Regina Coupar studied ancient Byzantine mosaic methods in Ravenna, Italy, and in her Lunenburg studio, she works in the old-fashioned way: with a hammer and hardie.
"Regina is using ancient media in fresh ways to tell the old, old story of our faith," says Mark.
In the fall, Regina won the commission to create installation pieces for our sanctuary. The result is 12 mosaics entitled The Grace Chapel Commission which depicts the four major themes of the Christian story: creation, distortion, redemption, and new creation. In addition to Regina's use of marble and Italian smalti in the mosaics, she has also included bits of gold, beads, and jewelry donated to her by members of the Grace Chapel community.
The opening reception is May 4 from 1 to 5 p.m. at Peer Gallery (167 Lincoln Street in Lunenburg) with a talk by the artist at 3 p.m. The exhibit runs until May 16 (Gallery hours: 1-4 p.m.), then the mosaics will be brought to Halifax and installed in the main sanctuary here at Grace Chapel.
For more information, please contact Mark Harris at (902) 445-2711. To contact the artist, Regina Coupar, visit http://www.reginacoupar.ca, write reginacoupar@eastlink.ca, or call 902-275-3857.
Posted: April 29 by: Admin
3405 views